At Taruna, well-being is understood as a sense of being fully available to life – drawing from the well-spring that lets us best connect and sustain the relationship we have with ourselves, as well as with the people and work that matter to us. Perhaps now more than ever, 'well-being' is being deeply challenged. So a central aim of the programme is to offer tools and insights to develop skills and abilities that support and sustain our own well-being. This way we are helped to strengthen our inner knowing, bringing us greater resilience and certainty. In turn this builds our capacity for relationship and strengthens the connections we have to others in our life.
Course Overview and Design
The Art of Well-Being is a three-seminar programme, each seminar runs for five days and the programme is completed over the course of a year.
Guiding motif each Seminar
Each seminar has a central motif that guides the learning experience for that week. In Seminar One it is the Lemniscate – a form that moves between inner and outer, and invites our consciousness at the crossing point between these two worlds.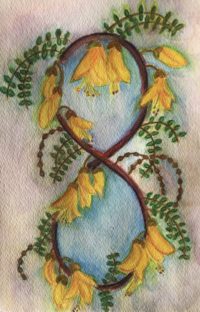 In Seminar Two we are carried by the Labyrinth as we are encouraged through movement, to take steps on own journey. As part of this week we build a labyrinth on the lawn and daily walk the path it offers – quietening our busy heads and listening to our hearts.
Finally, in Seminar Three, the Mandala encourages appreciation for harmony and balance as we explore the qualities of centre and periphery and the breathing in-between.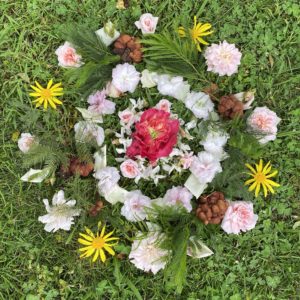 Three threads of learning
There are three principal threads that this programme weaves together. They are:
Art – recognising art as the language of the soul we progressively work with colour, form, line, movement and language to deepen our ways of connecting and expressing our rich world within. Beyond visual arts, this programme pushes into being 'artful' and how we might develop our skills and discernment in the field of social art, and movement (through eurythmy).
Life-story work (Biography) – discovering the meaning and potential in our biographies, as we explore windows into our own life stories and the rich tapestries that each of our lives have woven.
Contemporary, holistic thinking – which provides windows to help view the world in fresh ways. In particular we draw on contemporary applications of the work and understanding of Anthroposophy.
Daily practice
In the programme we open up simple daily practices such as journaling, observation, the use of poetry, verses and meditations, engaging in art, doing eurythmy, appreciating art, having good conversation. These are all ways in to ways of strengthening and supporting our well-being.
Nursing Treatments
A further thread in our learning on the programme is an introduction to nursing external treatments – practical things we can do for ourselves and our loved ones that support well-being. These include how to give foot-baths, compresses, and work with rhythmical touch in the 'breathing back' therapy.
The study journey allows students to:
Explore the theme 'Meet yourself, Know yourself, Be yourself' as a metaphor for well-being, by drawing on contemporary holistic understandings of the human being
Open up the nature and source of 'well-being' and how we can renew our own strength and resilience for life
Recognise and respect the power and potential we each have as adult learners, giving time and space for this practice
Pose the question, and explore together 'What does it mean to be truly human?'
Learn and practice the language of the soul as we come back to our individual centres and feel nourished through art, colour, mindfulness, story, nursing therapies, movement, artful conversation, reflection and life stories
Reflect on how these new and deeper understandings might inform a re-enlivened approach to life and relationships, both at home and at work
Challenge ourselves to change so that we can be more responsive and effective as we go about life
Develop observation skills as a pathway to insightfulness
Learn and use the central skills of listening and questioning as 'social art', in the practice of creating sacred space between us
Work with life story using themes and windows into your own biography to enhance understanding of the human journey
Understand the path of adult learning and its invitation to deepen our capacity to observe and to be present.
Who is the 'Art of Well-Being' designed for:
busy professionals looking for renewal and nourishment so they can be creative in the workplace
those connected to Steiner/ Waldorf schools looking to renew and deepen their connection
those working in education or health needing fresh tools and approaches to revitalise their work
those at a crossroads who need time to take stock and consider the road ahead
those who wish to honour the dimension of spirit in their lives.
2023 Dates
Seminar One: Tuesday (pm) 16 May – Sunday (am) 21 May.
Seminar Two: Tuesday (pm) 15 August – Sunday (am) 20 August.
Seminar Three: Tuesday (pm) 31 October – Sunday (am) 5 November.
Cost
Earlybird price available if all three seminars are paid together by 1 May 2023 is $3000. Total cost is $3300 after that date.
Come with a Friend and both receive a discount of 10%
The Crystal Bridge loan fund makes interest free loans available to students enrolled in Signature Courses at Taruna.
Minimum numbers are necessary for the course to go ahead. Applications close on Friday 21st April 2023.
Art of Well-Being Team
Lauren Hudson, Rosie Simpson and Deb Bednarek.
Entry Requirements
Applicants for this programme need to:
possess a maturity gained through some years of adult life experience
have the energy, health and enthusiasm to complete a part-time, yet intense year of study
have a good standard of written and conversational English.
Student comments from the Art of Well-Being course
"This course gave me an opportunity to explore my life so far, to understand what has shaped me, and to enable me to make informed choices that I will better understand going forward. I came away with some wonderful self-reflection, lots of knowledge about life-cycles and the various life-stages and what I might expect next – much better investment than a week on a beach".
Free Verse
Each colour wants to stand on its own
Like in the box of pastels.
They are all beautiful to look at like that, but,
When you put two colours together on a page
Something magical happens.
New tones, nuances, feelings arise
That weren't seen or felt when they stood separate.
The magic and beauty of all the colours
Comes alive when they work together.
Each human being has a colour,
Each is beautiful and unique.
And when human beings work together,
Then magic happens in communities, too.