Winter Warmers Crafts Workshops: Crafts that foster creativity and connection. Come and learn from master craftspeople. 2020 workshops are:
Needle Felting: Learn how to bring wool fleece to life using needle and foam (1st August).
Weaving: Te Kaahurangi Maioha will introduce you to mahi raranga/flax weaving through its tikanga/protocols pertainint to it's aookucatuib.  You will complete a woven taonga – a kete or creative art piece (1st and 8th August).
Mixed Media Printing: Learn how to print beautifully textured and coloured papers without a press and how to transform every day packaging (small card board boxes from biscuits, crackers, ice blocks, etc) into little treasure boxes with your artwork (8th August).
Calligraphy:  Rebecca from Panoply will guide you through the exploration of Italic and Uncial Letterforms (1st August) and Copperplate and Modern Letterforms (8th August).  Feel free to bring a short verse, lyric or word in mind to create an original piece.
Cost: $120 including a light lunch
Materials Extra
When: August 1st 10am – 3pm AND/OR August 8th 10am – 3pm 2020
(Note: If you wish to attend two workshops on seperate days please complete the form twice)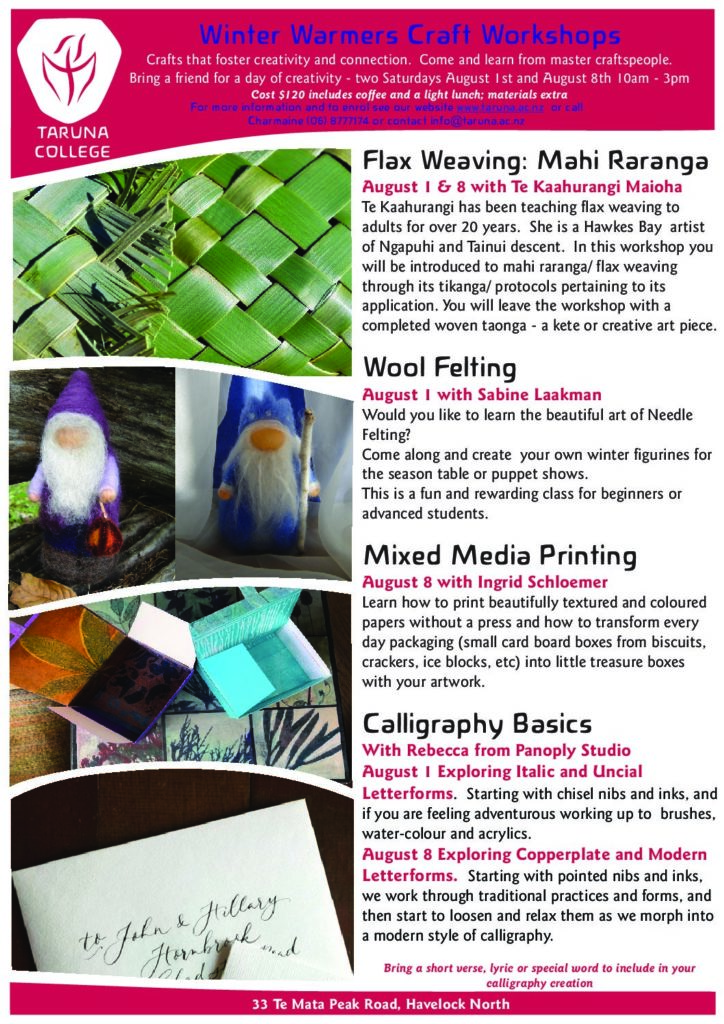 Course Registration
Complete the form to register for this course.